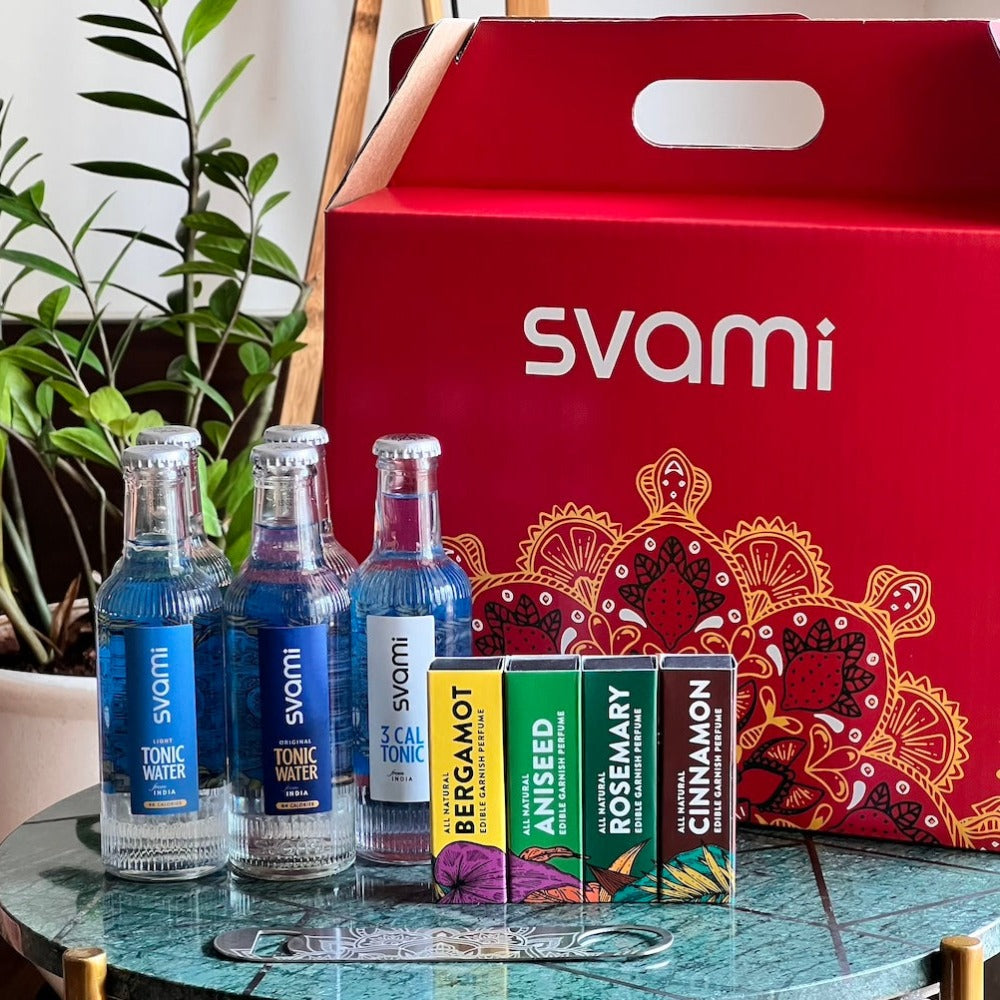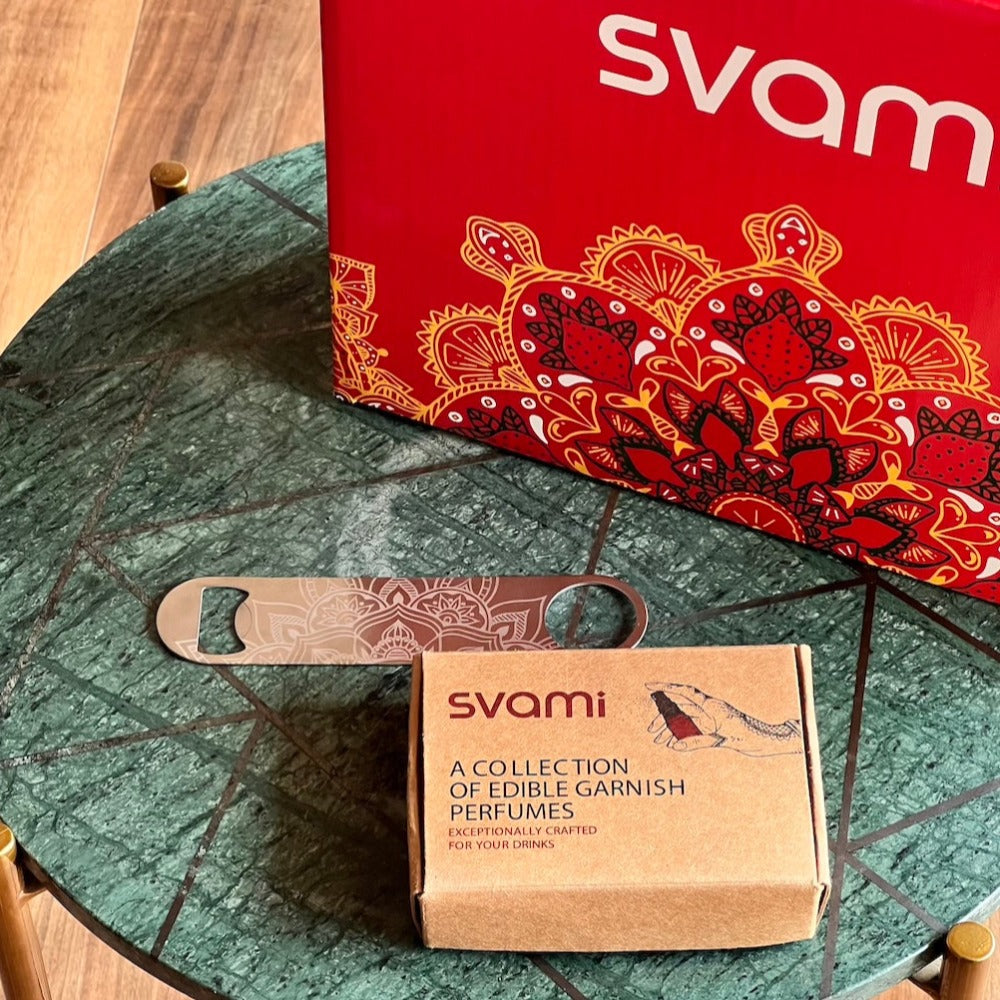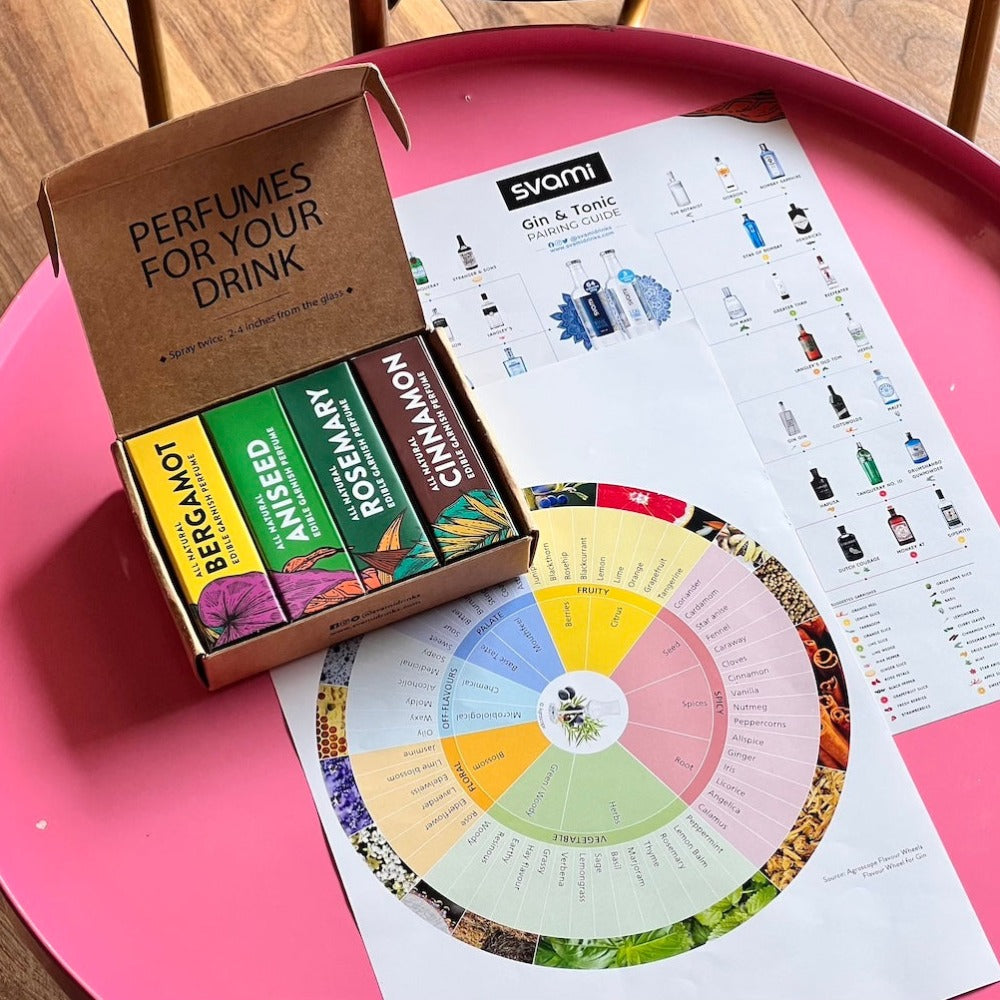 Svami Gin Appreciation Kit
We're very excited to bring to you our Gin Appreciation Kit. One kit with everything you need to explore endless ways to make that perfect Gin & Tonic.
The kit includes,
3 x 3 Cal Tonic Water
3 x Original Tonic Water
2 x Light Tonic Water
2 x Grapefruit Tonic Water
2 x Cucumber Tonic Water
All 4 Edible Garnish Sprays
1 Svami Bar Blade | Opener
Svami Gin & Tonic Pairing Guide
Gin Tasting Wheel
3 videos to guide your Gin appreciation experience
All of this, packed in our Festive BYOB Box, making it the perfect companion to your next house party.
3 Cal Tonic Water
Information per 100ml:
Energy: 1.5kcal
Protein: 0.3g
Fat: 0g
Added Sugar: 0g
Carbohydrate: 0g
Contains Artificial Sweetener

Cucumber Tonic Water / Grapefruit Tonic Water / Light Tonic Water
Information per 100ml:
Energy: 23 kcal
Protein: 0.09g
Fat: 0g
Added Sugar: 5g
Carbohydrate: 6g

Original Tonic Water
Information per 100ml:
Energy: 32kcal
Protein: 0.09g
Fat: 0g
Added Sugar: 8g
Carbohydrate: 8g
Quantity of each bottle 200ml
Pack of 12 or 24
MRP is inclusive of all taxes
For best before date, please refer to individual products
Made in India
Package weight - 5.8 kg (pack of 12) | 13 kg (pack of 24)